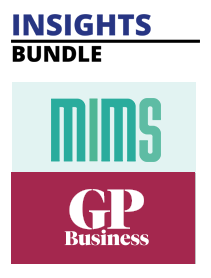 MIMS Online & Medeconomics Subscription options
Payment type
Duration
You save
Price
Unlock unlimited access to essential prescribing resources and practice management tools. With our bundle you can enjoy:
● Unlimited access to all articles on MIMS and GP Business
● Drug shortages tracker - updated daily
● Drug pricing tracker
● The latest news and updates direct to your inbox
● Drug comparison tables to easily compare different products
● Visual guides to help you identify, compare and recommend diabetes and respiratory devices
● Practical checklists helping you complete practice management tasks
● Finance tools for expert advice to optimise practice finances
● Up to date tables of fees for locum rates and GP Fees
● Our helpful A-Z of practice management tools
And much more…
Why choose our bundle?
- Save time - Our at-a-glance drug comparison tables and shortages tracker help you prescribe the right drugs first time.
- Improve patient care - Make the best prescribing choices for your patients with our constantly updated drug information and prescribing resources
- Prescribe with confidence - Minimise the risk of errors by keeping abreast of safety alerts and other important changes that affect your prescribing practice
- Stay connected - We provide you with relevant information and updates on all the issues that impact on your working life, including policy update, new guidance and key changes that affect GPs and their teams
- Save money - we provide timesaving resources and tools to help you run your practice efficiently by providing an up-to-date reliable source of fees for private and professional work, as well sharing tips on how your practice can become more profitable helping you better understand and optimise your practices finance
If you are NOT a qualified healthcare professional working in the NHS please click here.