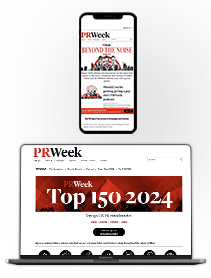 PRWeek The Information Subscription options

Join PRWeek and save 10% on your subscription
Subscribe to PRWeek and save 10% on your subscription. Simply choose between a monthly or an annual payment and your subscription will begin once your payment has been processed.
You'll enjoy unlimited access to online articles on PRWeek UK, plus our subscriber-only PowerBook (our definitive guide of the best UK PR professionals) and our Top 150 UK Agencies.
For team discounts for 5+ users - please contact Neil Johnson on neil.johnston@haymarket.com, 020 8267 4232.