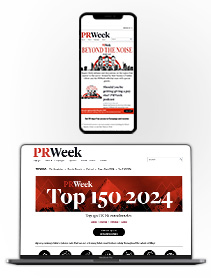 PRWeek The Knowledge Subscription options
Payment type
Duration
You save
Price
For team discounts for 5+ users - please contact Tatiane Muza on tatiane.muza@haymarket.com, 020 8267 4044
What's included in membership to The Knowledge:
Unlimited access to all news, Information and Knowledge content on prweek.com

Specialist bulletins

Discounts to PRWeek events

PLUS
Top 150 UK PR Consultancies Report
Analysis and growth forecast of the UK's most significant consultancies.

Industry Awards Rankings, UK & EMEA - 2 biannual reports
Two major league tables tracking rolling annual performance based on award wins.

Definitive PR Industry Salaries and Talent Tracker - 4 quarterly reports
Track salary levels in comms and PR roles across every seniority and region in the UK.

Premium Top 150 Report Trends Analysis - every Spring
An additional Top 150 report aimed at industry leaders; analysing the most important trends, rolling updates on revenue and new business and intelligence on which consultancies are outperforming in terms of growth and headcount.